In this post: On the hunt for good looking, inexpensive (ok… cheap) dining chairs? I'm sharing 16 of my favorites!
If you've ever been in the market for new dining chairs, you know how quickly the cost adds up when you need 6-8 of them! Fortunately there are stylish yet inexpensive dining chairs out there – and luckily I've done all the searching for you! Today I'm sharing the best online sites to shop for inexpensive dining chairs, my favorite inexpensive dining chair finds, and a few tips for shopping for new chairs including how to make your dining space look more high-end even if you bought your chairs on a budget. And read on to the end where I share progress and updates on our own dining room! (post includes affiliate links – full disclosure statement available here).
The Best Online Shops For Inexpensive Dining Chairs
One of my favorite places to shop online for cheap dining chairs is HERE at T.J.Maxx. They don't have a large selection of chairs but most of the chairs they have are good looking and they're typically sold in pairs at a great price. For example, this pair of wishbone dining chairs is priced much lower than you can find similar chairs pretty much anywhere else online. T.J.Maxx also frequently has Serena & Lily inspired chairs such as these rattan dining chairs that are similar to these Serena & Lily Balboa dining chairs. The only negative of shopping online at T.J.Maxx is that their selection is constantly changing so if you find a pair of chairs you like and want another pair, they may no longer have them. Also check out Marshalls online HERE that has a similar selection (they have the same parent company).
Another favorite cheap source for chairs is IKEA. Just be sure to pay attention to their chair measurements (especially if you have any bigger family members) because some of their chairs are a lot smaller in size than typical. When my husband and I first got married and needed a cheap dining set, we bought this set of IKEA table and chairs without seeing them in person and totally felt like we were sitting at a kids play table – we still laugh about it today. 🙂
Some of my other favorite online sources for inexpensive dining chairs are:
Pottery Barn (check out their Everyday Value chairs here)
Target here (they have a lot of good online options you won't see in the store)
Wayfair here
Walmart here
Amazon (they have their own Stone & Beam brand of dining chairs HERE) & their more contemporary Rivet brand HERE)
After doing a ton of online hunting, I gathered together my favorite 16 dining chairs that retail at $150 or less per less. Many of them are under $100 and the ones closer to $150 can often be found on sale for less). There are details about each chair and a link to it below. Note that the price for many of these dining chairs is for a pair or set of four! 
Details & Links for Each Chair:
Chair 1: Armless bistro dining chair (set of 2) available HERE in white, dark gray, and beige. These bistro dining chairs are the bargain buy of the bunch at under $100 for the set of 2. They are made of molded plastic (which is how they can be sold at this low price) so can be used indoors or out. 89% of reviewers give them 4-5 stars, praising them for being sturdy, comfortable, easy to clean, and surprisingly chic looking in person.
Chair 2: Classic spindle back Windsor dining chairs (set of 2) available HERE  in charcoal gray, oak, white, and black. These are some of my favorite chairs of the bunch – I have a pair of them in the white. They are a classic design that will never go out of style. They do require some assembly but are easy to put together. I like chairs with tall backs and these are one of the tallest of the bunch at 36″ H.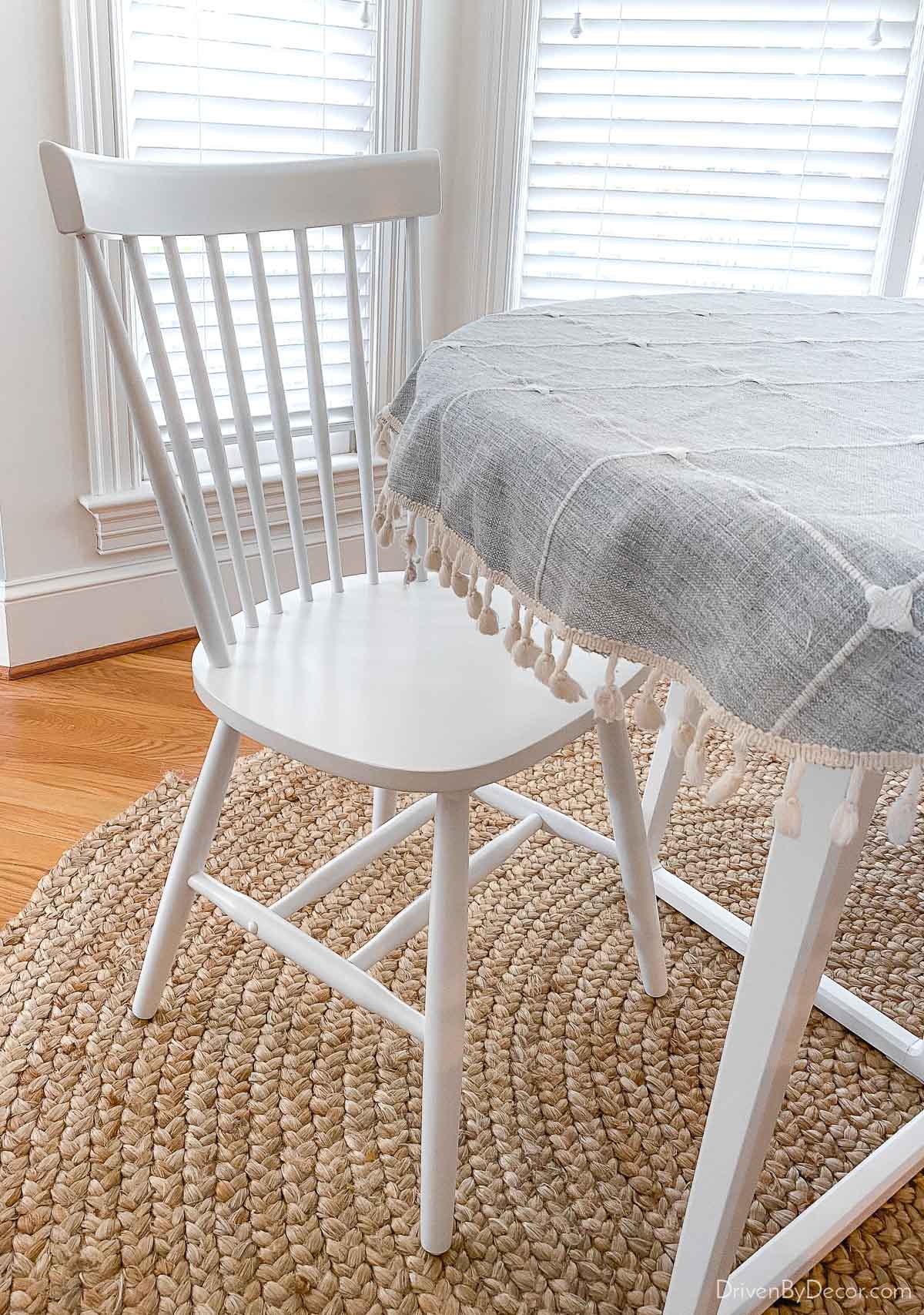 Chair 3: Rattan chair with black metal base available HERE. 
I love rattan chairs but they're typically on the pricey side so I was excited to find this dining chair that's a super reasonable price. It's the only chair on my list that has arms (arm chairs are typically more expensive than side chairs so it was tough to find any under $150). I personally wish they had a white base instead of the black but if your vibe is more modern than mine, the black could work great (and the base color is nothing that a can of spray paint couldn't fix!)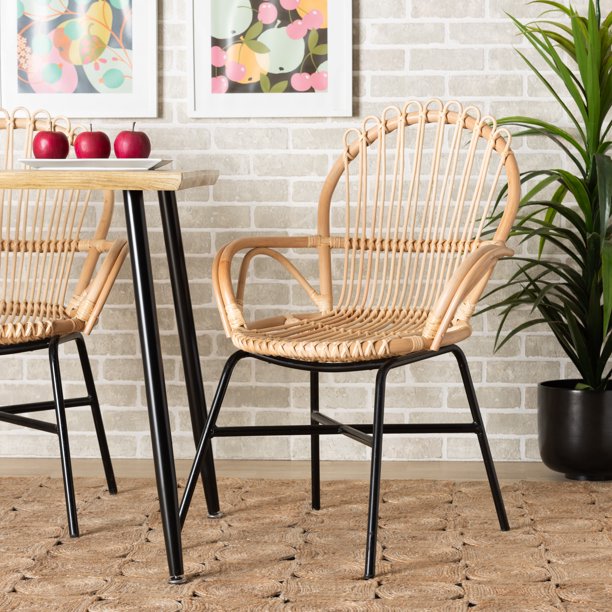 Chair 4: Metal X Back Dining Chair (set of 2) available HERE in black, white, light blue, and gray. I love this chic, modern version of a classic chair! They're made of steel so are very sturdy and have a more petite frame size than some of the other chairs on my list.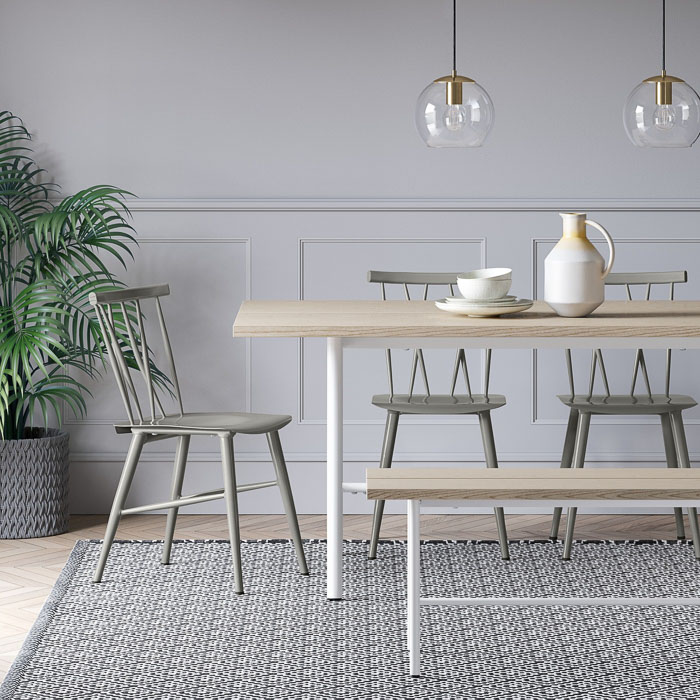 Chair 5: Gray upholstered dining chair with nailheads available here. It's difficult to find decent looking upholstered dining chairs at a low price point but these make the cut! The dove gray fabric color is neutral enough to work in almost any space and the curved chair tops add a touch of elegance: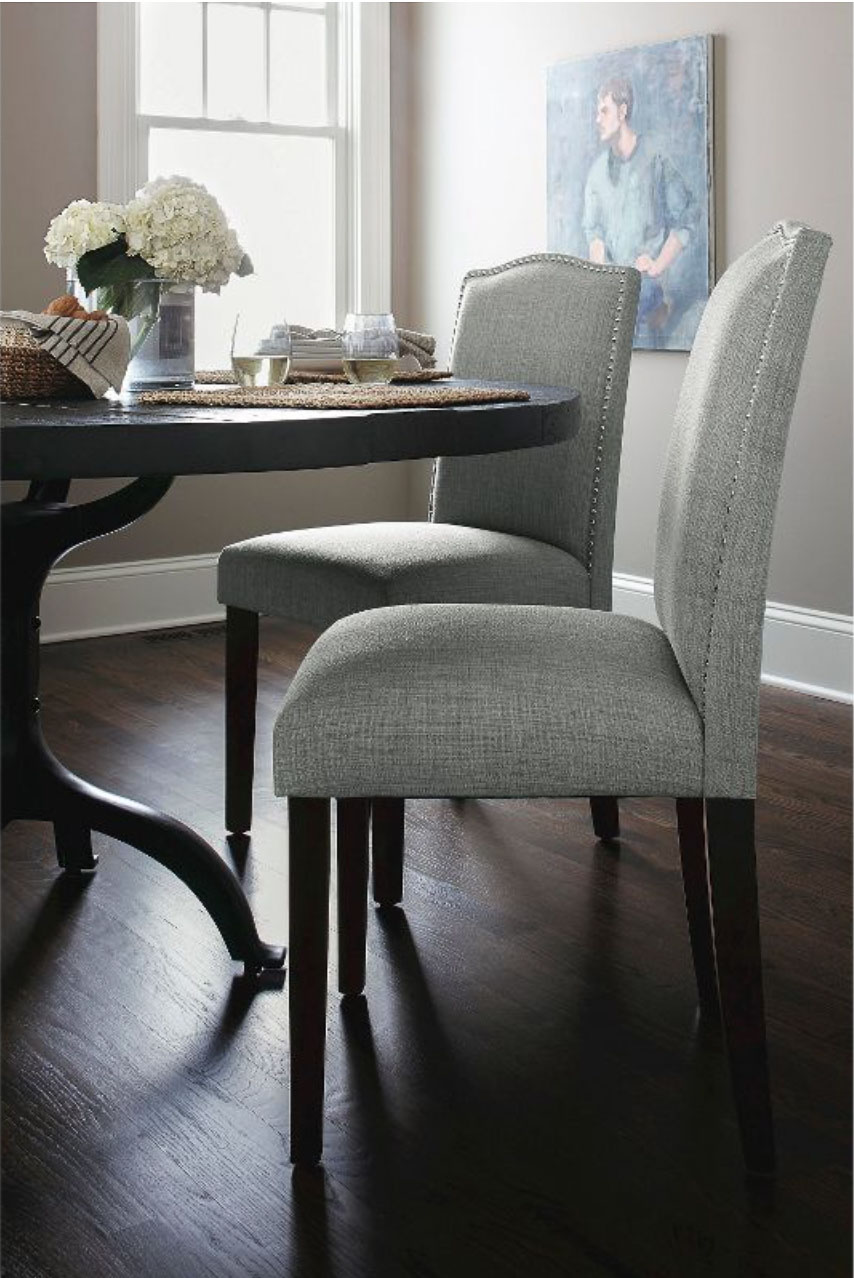 Chair 6: Ladder back chair available HERE in black, weathered gray, white, and salvaged black. This is another of my favorite chairs on the list because I love the simple design (including the curved, splayed legs) and the weathered gray finish is beautiful: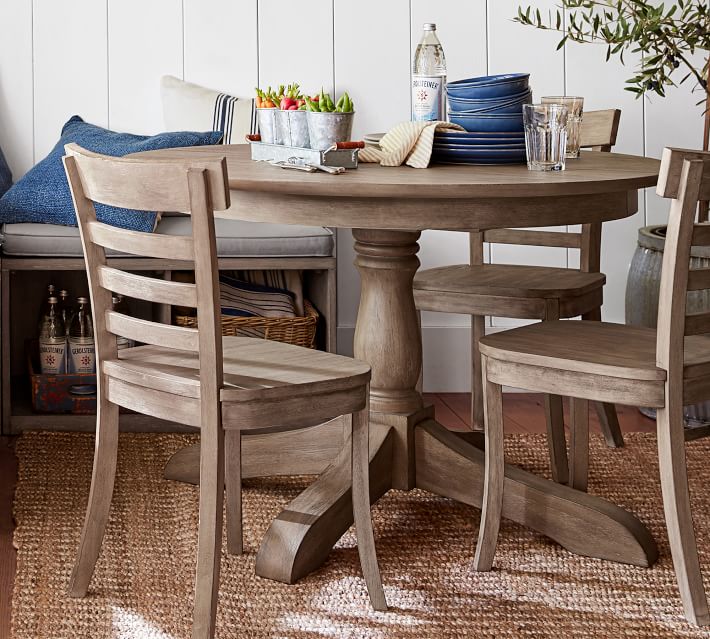 Chair 7: Slat back metal dining chair (set of 2) available HERE in 8 color options. They require no assembly, are stackable & sturdy, and get great reviews.
Chair 8: Spindle back updated dining chair (set of 2) available HERE in black, green meadow, silver birch, white, and blue steel. This chair is a modern version of the classic Windsor spindle chair at an excellent price and has one of the higher backs of the bunch.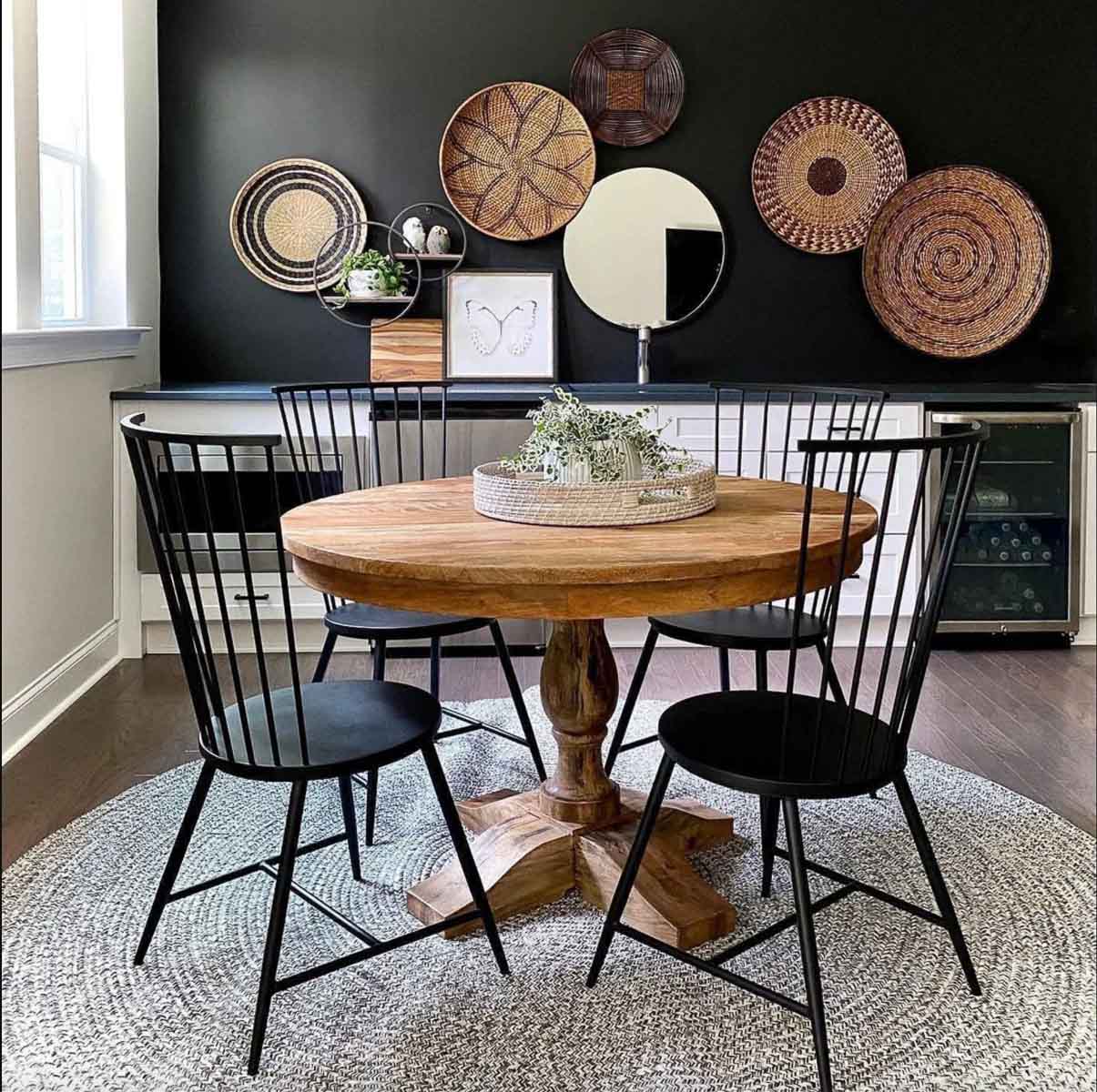 Chair 9: Woven IKEA chair available HERE. This chair has a bamboo frame and handwoven paper twine seat and back. It's a newer chair so doesn't have many reviews but I love the look of it!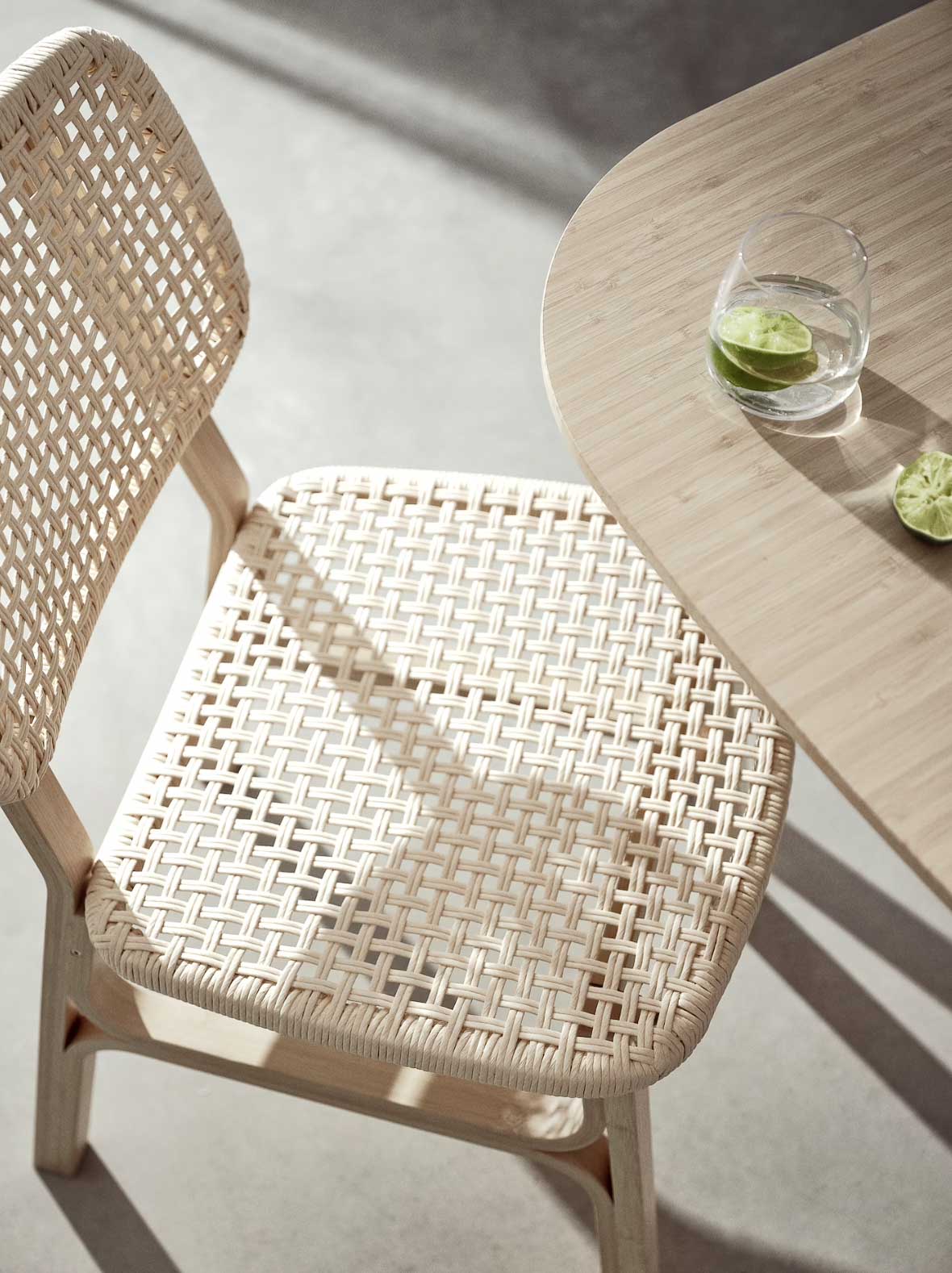 Chair 10: Metal X-back dining chair (set of 2) available HERE in 7 color options including antique blue: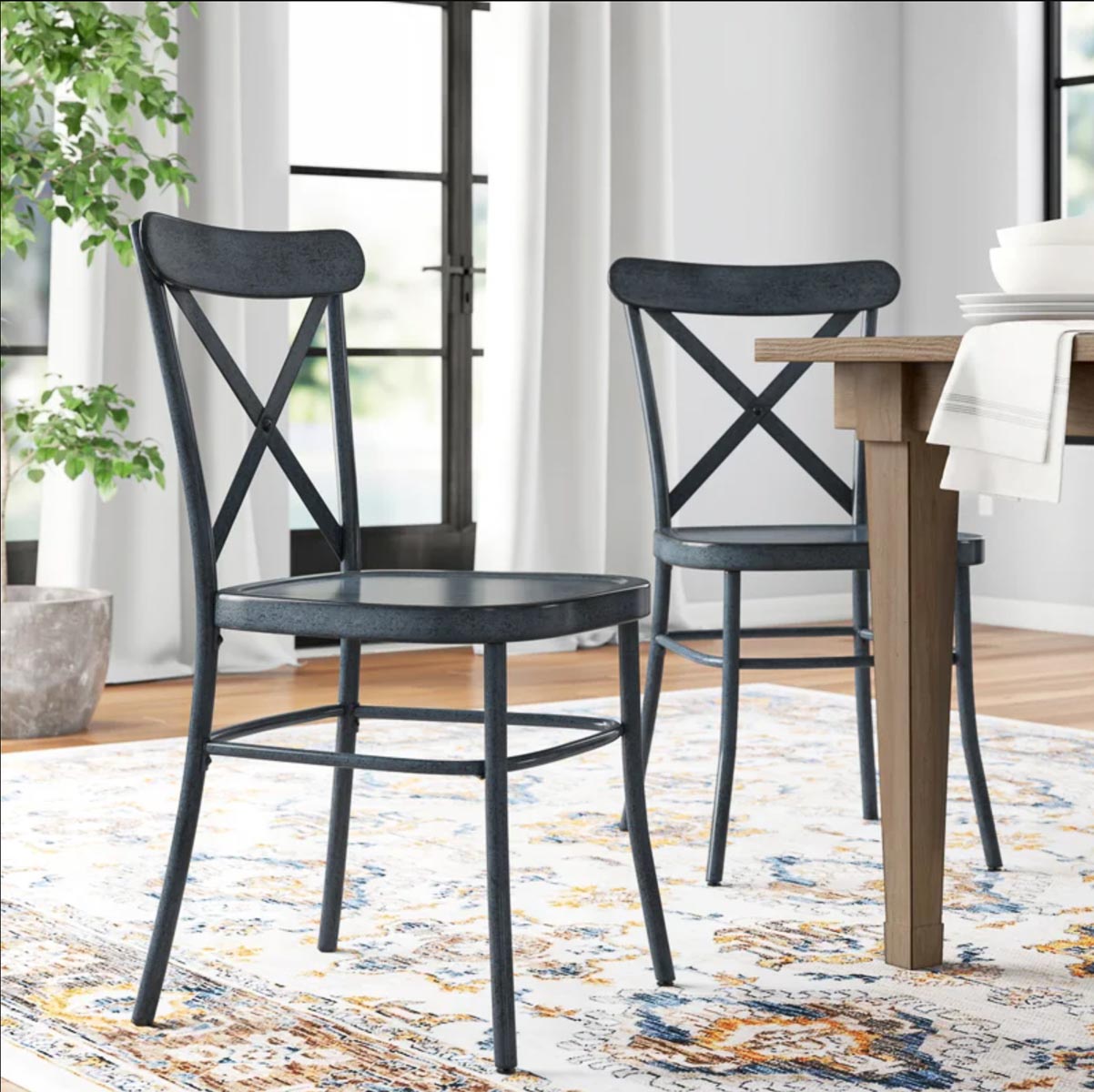 They get great reviews are are said to be both sturdy and comfortable. One thing noted by a few reviewers is that the paint scratches more easily than expected so they might not be the best choice if you have kids. Also check out these chairs that have a similar design in several wood finishes including a lime wash.
Chair 11:  Solid wood Windsor dining chair (set of 2) available HERE in neutral gray with lower backs than the other Windsor options. The reviews on this dining chair are among the highest of the bunch, praising the high quality of the chairs.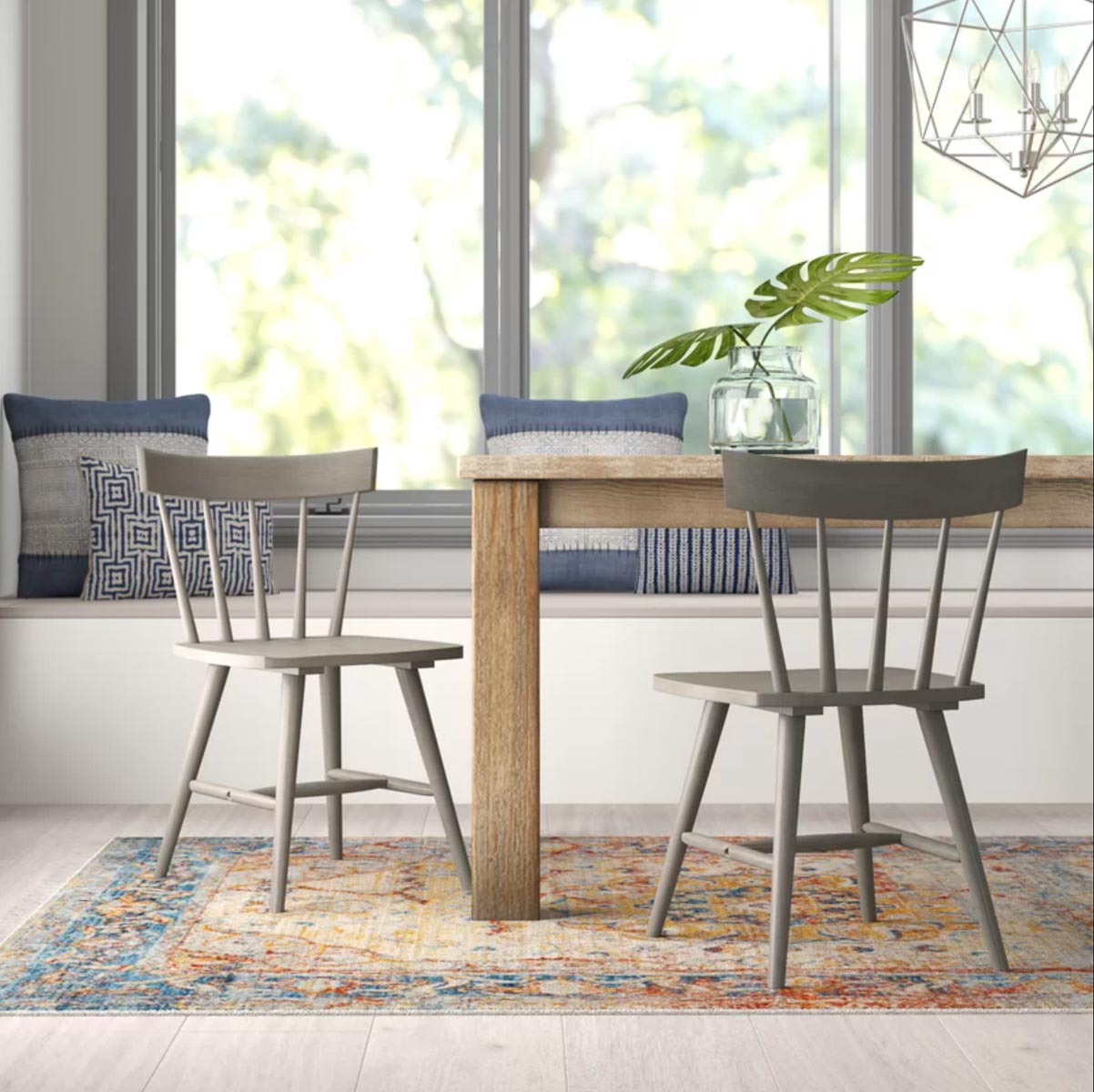 Chair 12: Upholstered linen dining chairs (set of 2) available HERE in beige, gray, and dark gray. These are perfect if you like a more traditional design and are looking for something upholstered.
Chair 13: Modern upholstered dining chair available HERE in a basketweave slub ash fabric (there is also an oatmeal color available but it's $50 more). This is a very clean lined chair that could work with both modern and transitional designs. The solid wood legs have a gray wash finish. I've seen these in person and thought they looked more expensive than they're priced.
Chair 14: Leather weave dining chair available HERE in six weave color options & three wood finish options. These chairs have a younger, more modern vibe than most of the other chairs on my favorites list.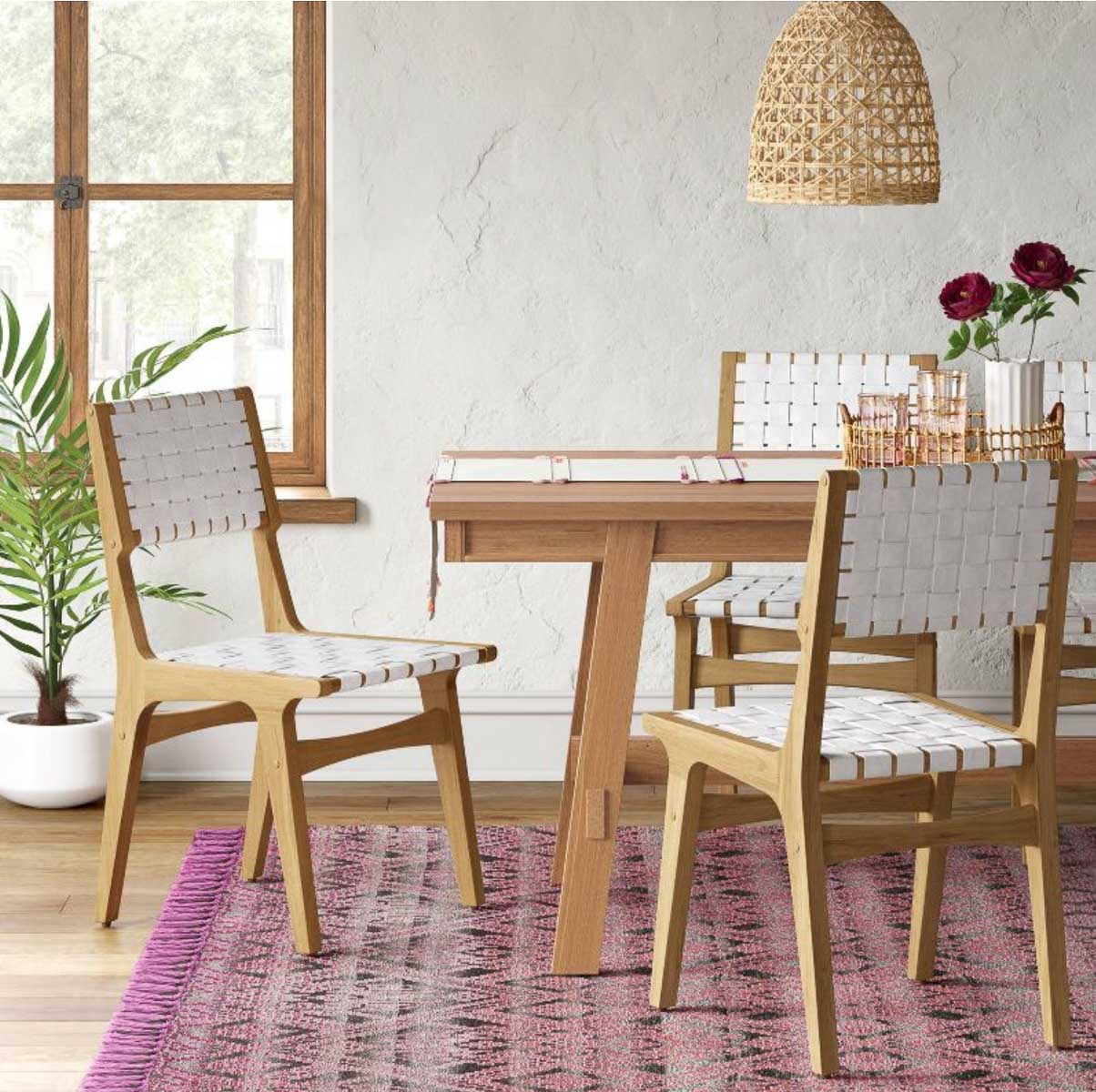 They get excellent reviews with the exception of the black weave/walnut frame combination (reviewers state that the wood color is more of a cherry color than walnut) and the natural weave/natural frame combination (reviewers state that the weave is more of an olive color).
Chair 15: Cross back dining chair (set of 2) available HERE in four color options. A classic, timeless style!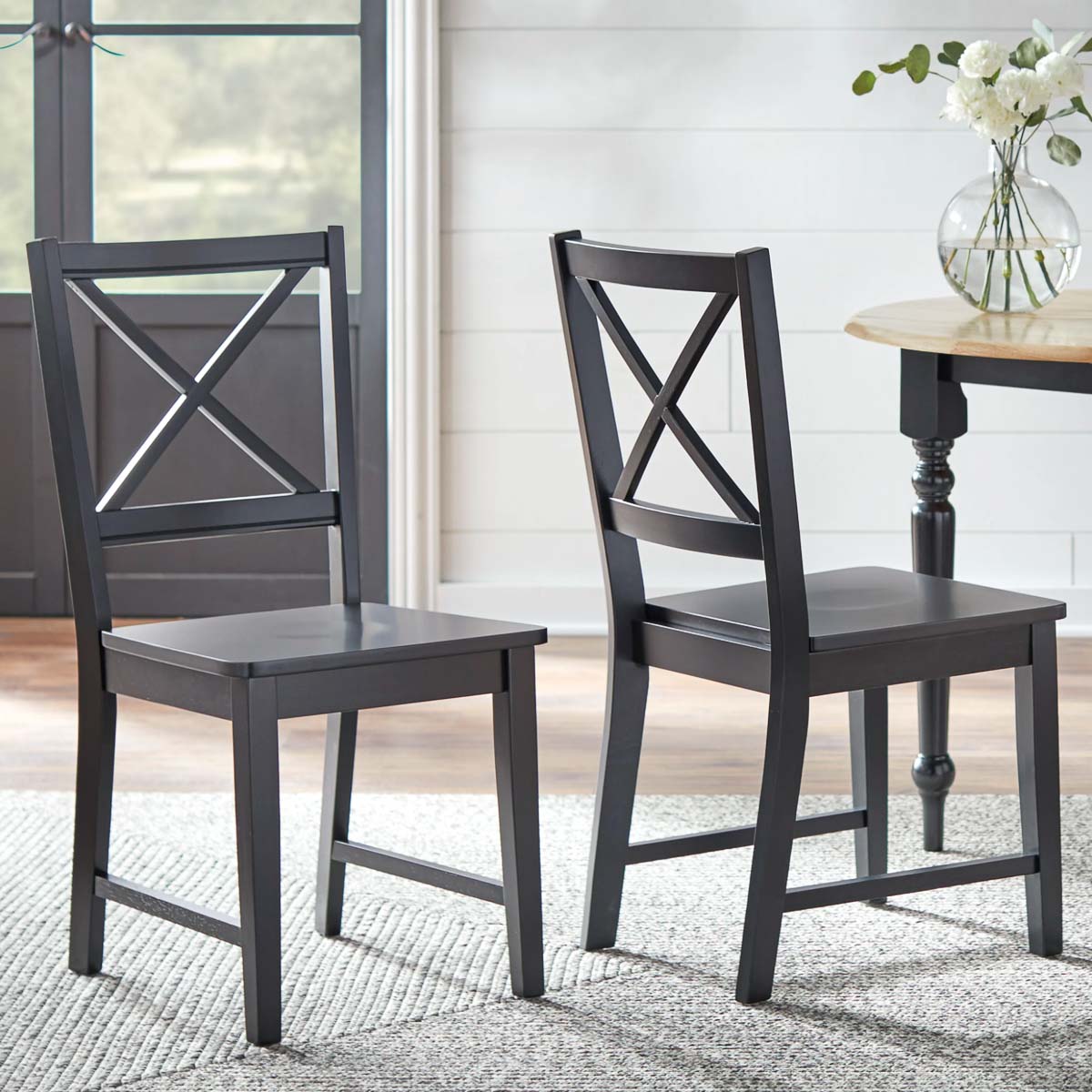 Chair 16: White mid-Century modern chairs available HERE in white, gray, and black. You can buy a single chair or buy them in a pack of 2 or 4 for more savings (the price per chair for the 4 pack is crazy low!). They're Amazon's #1 best selling dining chair! The molded plastic chair has a cushioned seat that reviewers repot as being very comfortable. The images posted by reviewers showing these chairs in their dining spaces really show off how nice they look.
Dining Chair Shopping Tips
Pay attention to is the seat height of your dining chairs. There's actually quite a bit of variation in seat height so you want to make sure that you're choosing chairs with a height that's comfortable for your dining table. To determine this, take the height of your table and subtract 12 inches (for example most dining tables are 30″ high so an appropriate seat height would be 30-12=18″).
If you're looking at dining chairs with arms, make sure they're not so high that they'd prevent you from pushing your chairs as close to the table as you'd like. I made this mistake once about 15 years ago and you can bet I ever make it again!
Consider mixing your dining room chairs with one style of chair for your side chairs and another style for your end chairs. The eclectic mix gives you a higher end look and if you have higher quality end chairs, you can often get away with spending a lot less on your side chairs. As I mentioned earlier, I found the side chairs in our previous house at HomeGoods but then spent more on two substantial wingback end chairs to elevate the look of our space. I do recommend that your end chairs be taller than your side chairs if you're mixing things up! The mix of these side chairs with these end chairs from Serena & Lily is another example: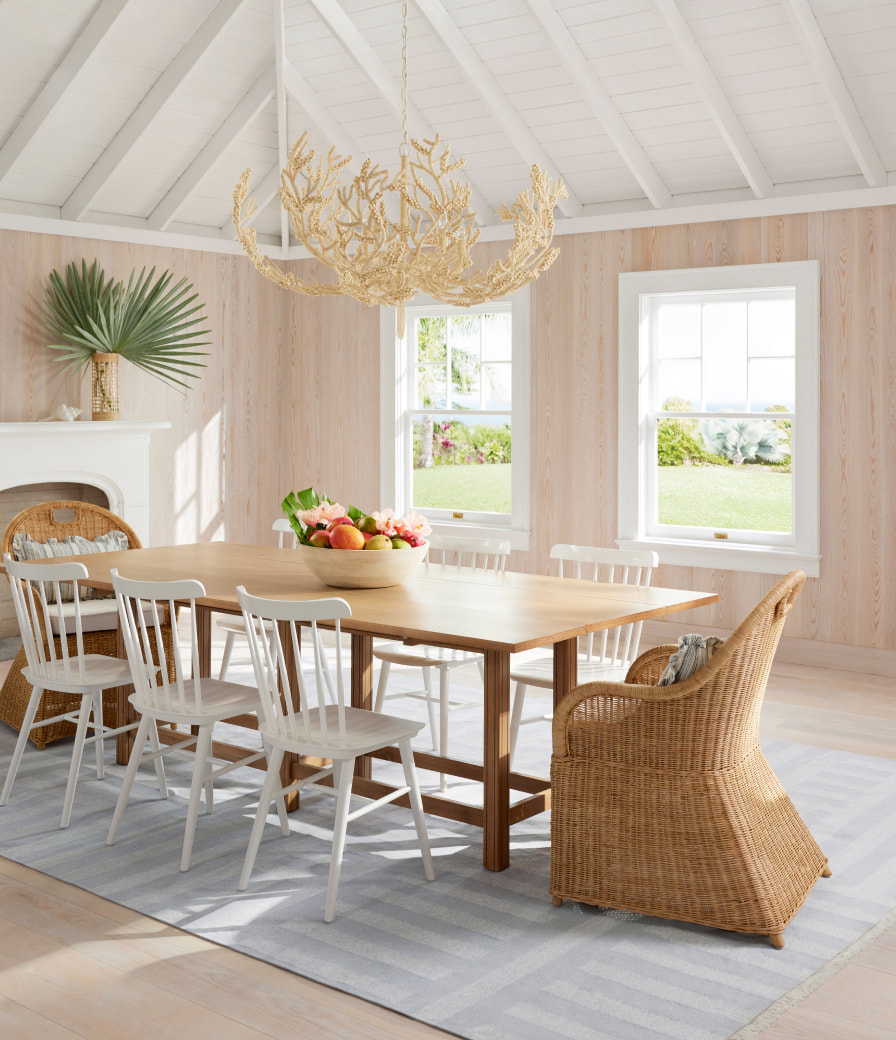 Progress On Our Dining Room
So where are things at with our current dining room? We didn't bring any dining room furniture with us from Connecticut (the table was too long for our new space, even without any leaves and we didn't have a sideboard or buffet since we had a built-in there) so we started completely from scratch. I've taken it slow in putting this space together (we've been in our house almost a year now!) because we've made several large purchases for it that we plan to be "forever" pieces and wanted to space those purchases out a bit.  Here's where our still-looking-bare room is at right now: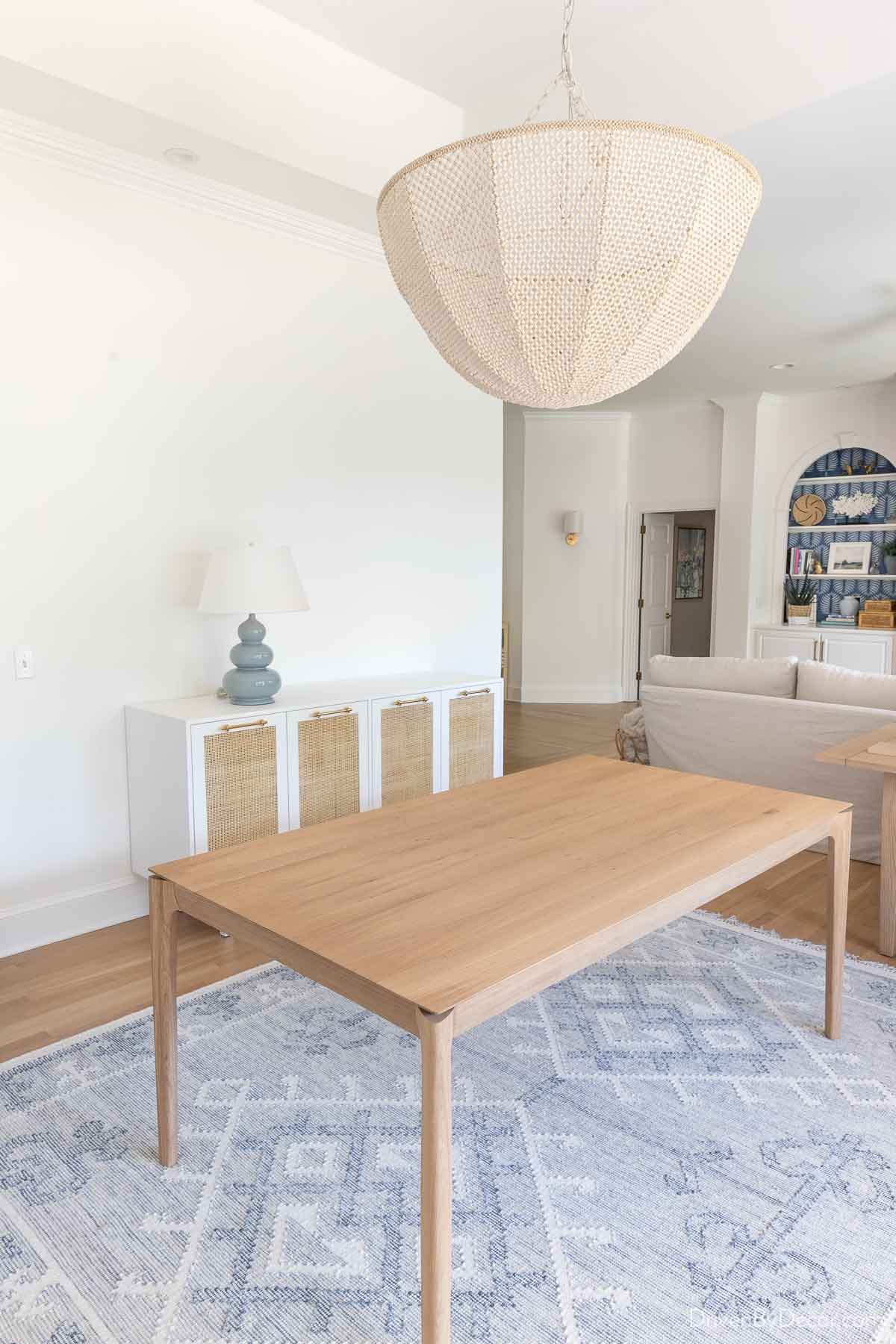 For lighting, I splurged on this stunning beaded chandelier that I luckily got before the price went up quite a bit but it was still an investment. You can bet I'll replace this sucker with something inexpensive and take it with me if we move in the future! Obviously we're still in need of art, accessories, and dining room chairs (which is what led me to write this post in the first place – I think I've seen every dining room chair out there in my search 😝). I'm trying to first decide on end chairs with my favorites so far being this upholstered arm chair and  this set of 2 wingback chairs – once I decide on those I hope to pick some side chairs on the cheap! I'll let you know what I choose and share more as this space takes shape!